Studios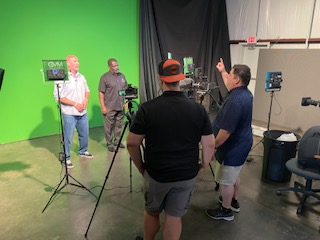 We're proud to present the most innovative & technological multi-use studio space in Houston, TX.
From Photography, Videography, Zoom Hybrid Events, Podcasting, to Audio Recording, our unique space located minutes away from Bush Intercontinental Airport (IAH) is your destination for affordable yet flexible production needs. With our 20' Tall Green Screen, you can be the star of your own produce polished events for streaming platforms like YouTube, Twitch, Vimeo, or your own services. Our dedicated 1GBPS down and 1GBPS up fiber optic connection ensures buffer free, quality streaming systems. You have enough to worry about with your project, so we handle all the technical work, studio setup, editing, streaming, and publishing; leaving you to focus on the vision of your project.
Our air conditioned studio space is also equipped with professional lighting grid, makeup/changing areas, shop space, LED Wall, two Control rooms for audio and video recording/editing/mixing, wireless microphones, digital "DANTE" audio workflow, green screen, cyc wall, and several prop sets to choose from. We also have conference area, talent staging area (Green Room), atmospheric fog, teleprompter & closed captioning services.
We are positive you will find great value, professionalism, quality gear, and affordable pricing in working with our studio verses other studio spaces in the area.
REMI Production:
REMI stands for "Remote Integration" and is a set of production techniques for clients that need more affordable productions, that typical on-site production cannot achieve. With REMI's, minimal production personel is on-site leaving most of the technical staff back at our remote studio. The video and audio infrastructure is sent back digitally through networking IP protocols with minimal delay and then pushed out to your ultimate destination. We are happy to consult with you on the benefits of our systems and how we can make a quality yet affordable production for your next event.
Recording
Utilizing ProTools, Logic Pro, and other DAW's, we can quickly produce quality audio for your next recording. Our low hourly rates, combined with expert staff recording engineers will help you navigate your next audio recording from full band mixing, tracks, mastering, voice overs, vocals.
We look forward to working with you on your next project. For a consultation and tour of our studio space, contact us here.