6 things to consider when hiring a TV broadcast truck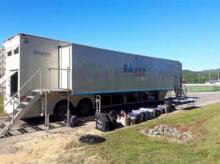 Choosing the right type of production truck for your next event production can be exhausting and time consuming. We make it easy to find the right truck and gear for the job and can make recommendations that will make your event even more of a success without sacrificing your budget. We've detailed below a few things to consider while you are on your search for a potential TV Truck for your next event production.
Type of Equipment and capabilities: Not all TV trucks are created equally… Ask yourself…
Will the switcher accomplish the task?
Will the show I am doing need motion graphics, and specific software to operate.
How many inputs and outputs of replay will I need?
Is specific hardware needed such as file capabilities for importing and exporting video files?
How many cameras are needed, what type of lenses are needed, what configuration, big box sports lenses, or handheld?
How many microphones, talent earpieces, intercom communication boxes and other audio gear needed to complete the production?
Our qualified sales staff will walk through the scenarios and options including what is the desired workflow and how does a TV truck fit in it.
 
Maintenance Program:
How often is gear maintained, ask when the last time something was maintained?
Ask detailed questions about how old certain equipment is. What is the oldest equipment on the truck? How important is it to the broadcast?
Engineer and Sales Staff
What is the engineer's experience?
What is the number of shows he or she has completed?
What is the highest show experience they have worked, is it relevant to your production?
Will he or she serve multiple roles/duties on your production?
Is the engineer often on this mobile unit?
Is the engineer familiar with the show and client/network requirements?
        
We have heard countless stories of trucks touted as the best possible, but supplied inadequate engineering staff which results in a difficult experience on location and sometimes catastrophy. Carefully choosing your truck, sales staff, production coordinator, and engineer all spell a recipe of success for your event.
Logistics:
Can it fit?
Is power on-site? Or Generator Required?
How far will cameras and other key areas be away from the unit?
Years in business
Years in business is a good predictor of company success.
Choose a company with a good track record, and a willingness to listen and put the customer first.
Ask what are the largest shows they have produced and worked apart of.
Check References!
Location location location.
Where is truck based out of?
Where will it be coming from prior to your event?
Are there any travel costs associate with truck booking?
The qualified team at Bounce Multimedia is your event production experts! We will walk you through the entire process from start to finish and guarantee the success of your event. Choose us for your next production and see why so many of our customers and clients love us!