New Technology for ESPN+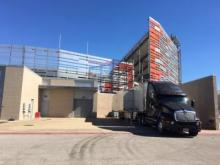 On Halloween 2020 - Oct 31, 2020 at TDECU Stadium on the campus of the University of Houston... Bounce Multimedia deployed their Unit A - Matthew TV Truck for the Cougar vs Knights (University of Central Florida) football game.
Utilizing our experience, we utilized a digital booth kit, NDI Telestrator, Ethernet Controlled PTZ Camera in Booth, and more! Our streamlined methods improved setup times, eliminated many troubleshooting issues, and more. Overall it was a success our innovations made to the overall broadcast in regards to execution and rapid deployment.
Bounce Multimedia has always been adapt to innovation and beta testing, from working as the test truck for the MLB Statcast and Pitchcast systems to a product currently in testing with ESPN3 for a virtual down and distance "yellow" first down line on the screen. Our valuable ideas and experience have helped shaped the landscape of televisions sports as viewers see it, and how our broadcast community uses such devices. Look for our innovations on upcoming productions on ESPN!