Test Tools Any Video Technician Needs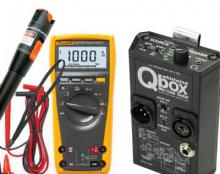 We cannot express how important it is to use test tools to verify signal flow in a production. We decided to write an article showing our top testing tools in our arsenal. These help us quickly diagnose problems and quickly get a production to air without testing tools, you're flying blind, and in some cases living dangerous!
- QBox, this is our #1 Go to! It is an audio tester with a speaker and is also a tone generator, you can visually see voltage for powered XLR intercom packs as well as phantom power on lines, helping identify signal loss or missing pairs.
- Fluke Multi-meter, we don't trust any other multimeter, this is handy for checking resistance, continuity, AC and DC Voltage and Amp Draw.
- Visual Fault Indicator: Use this for Fiber Optic Lines to help ID where a fiber line is going or if it isn't make it back to the other end.
- Battery Operated Test Monitor. We use a monitor that has not only HDSDI but also HDMI on it to verify connection.
- TDR, we use a cable fault finder for testing coax and triax lines. These units show the estimated length of a cable and can help you find out how far a fault is. They also have optical TDR available as well
- Fiber Scope, See the cleanliness of a fiber connection to help you avoid signal loss.
- Fiber Meter: Know if there is any signal loss in a line and if a fiber line should be cleaned
- RS-232 Data Tester: Know if data is properly making it to the score board application and if a NULL Modem is necessary.
- AES QBox: Similar to the QBox except for AES balanced and unbalanced applications.
- DT12 Tester: Test DT-12 Cable and find faults
- Triax Tester: Used extensively in triax cable repair. We recommend always testing a triax cable with a live hand-held camera before deploying.
- XLR Tester: Find faults with an XLR Tester. We use this if a cable is suspected to be bad and is brought back to us for further testing. However, a QBox works best when in the field.
There are many more items for test equipment and may vary depending on operation. We'd love to hear your thoughts if our guides are helpful or if you have anything you wish to add! Click the Contact us page to reach out to us!