Affordable Studios for Any Project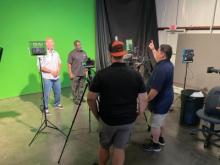 From Photography, Videography, Zoom Hybrid Events, Podcasting, to Audio Recording, our unique space located minutes away from Bush Intercontinental Airport (IAH) is your destination for affordable yet flexible production needs. With our 20' Tall Green Screen, you can be the star of your own produce polished events for streaming platforms like YouTube, Twitch, Vimeo, or your own services. Our dedicated 1GBPS down and 1GBPS up fiber optic connection ensures buffer free, quality streaming systems. You have enough to worry about with your project, so we handle all the technical work, studio setup, editing, streaming, and publishing; leaving you to focus on the vision of your project.
Our air conditioned studio space is also equipped with professional lighting grid, makeup/changing areas, shop space, LED Wall, two Control rooms for audio and video recording/editing/mixing, wireless microphones, digital "DANTE" audio workflow, green screen, cyc wall, and several prop sets to choose from. We also have conference area, talent staging area (Green Room), atmospheric fog, teleprompter & closed captioning services.
We are positive you will find great value, professionalism, quality gear, and affordable pricing in working with our studio verses other studio spaces in the area. Give us a call when you have big or small projects requiring studio facilities. We are happy to consult and offer our best options and pricing to help you get the look and feel you are needing.
Contact us to consult with your next project.