Product Spotlight: Studio Technologies Model 381 added to inventory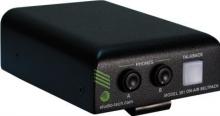 Bounce Multimedia LLC, a leading provider of audio and video equipment, has announced the addition of the Studio Technologies Model 381 to their product inventory lineup. The Model 381 is a high-performance audio interface that is designed for use in professional broadcast and production environments.
The Model 381 is equipped with a variety of features that make it ideal for use in a wide range of applications. It has four balanced analog inputs and outputs, as well as two channels of digital audio input and output. The device also includes a built-in headphone amplifier and a high-quality microphone preamp.
The addition of the Studio Technologies Model 381 to Bounce Multimedia LLC's inventory is a significant step forward for the company. The Model 381's high-quality audio and versatile functionality make it a valuable addition to any professional audio or video production setup. With this new addition, Bounce Multimedia LLC is now able to offer their customers a wider range of audio equipment options, making it easier for them to find the right solution for their specific needs.