We're Now Datavideo Resellers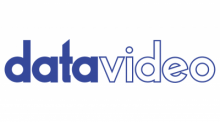 Bounce Multimedia, a company specialized in professional video production equipment, is now authorized as a dealer to sell products for Data Video. This allows Bounce Multimedia to expand its product offerings and provide customers with a wider range of options for installations.
Data Video is a leading video equipment company, known for supplying professional video products. They offer a wide range of products, including video switchers, character generators, video servers, digital video recorders, and more. Some of their products are designed for use in live events, such as concerts and conferences, and streaming, while others are intended for use in broadcast studios and post-production facilities. Data Video's products are known for their high quality and robustness, while offering a generous three year warranty on my items.
Bounce Multimedia's is proud to partner with Data Video to offer a wider range of high-quality and reliable professional video production equipment to their customers. Data Video's focus on supplying professional video production equipment with high-quality and reliability has made them a popular choice among professionals in the industry.