We bring Cutting-Edge Technology to Cattle Con 2023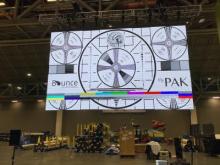 FOR IMMEDIATE RELEASE
Bounce Multimedia LLC Brings Cutting-Edge Technology to Cattle Con 2023
New Orleans, LA – Bounce Multimedia LLC, a leading video production company, announces the provision of a state-of-the-art LED Wall for Rawhide Portable Corrals booth at the 2023 Cattle Con at the New Orleans Convention Center. This cutting-edge technology is set to enhance the overall experience for attendees, providing a visually stunning display of Rawhide Portable Corrals' products and services.
The LED Wall rented for this occasion, measuring 9x16 feet, is a high-resolution 2.9mm display system that uses advanced single LED technology to produce bright and vibrant images and videos. The LED Wall will showcase the latest products and services offered by Rawhide Portable Corrals, providing a visually impactful and memorable experience for attendees.
Bounce Multimedia LLC is proud to offer this LED Wall for rent for other events, including concerts, rodeos, corporate events, and trade shows. The LED Wall is a versatile and flexible display solution, ideal for creating stunning visuals that leave a lasting impression on audiences.
"We are thrilled to provide the LED Wall for Rawhide Portable Corrals at Cattle Con 2023 and to offer this innovative technology to other events," said Travis Brocato, President of Bounce Multimedia LLC. "Our LED Wall is a powerful tool for creating immersive and engaging experiences, and we can't wait to see how it will be used to enhance events in the future."
For more information on Bounce Multimedia LLC and their LED Wall rental services, visit their website or contact them directly.
About Bounce Multimedia LLC
Bounce Multimedia LLC is a leading video production company that provides innovative solutions for events and businesses. With a focus on delivering high-quality and visually stunning results, Bounce Multimedia LLC uses the latest technology to bring events to life. Their motto includes "When you Demand the Best".
Contact:
Bounce Multimedia LLC
sales@bouncemultimedia.com
(409) 860-5551