New Dealer Alert - Pliant Technologies & CrewCom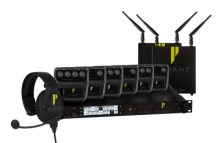 We are thrilled to announce our new partnership with Pliant Technologies, a leader in innovative wireless communication solutions for the professional live sound, production, and broadcast markets. As a dealer for Pliant's cutting-edge CrewCom wireless intercom system, we are excited to bring this top-of-the-line equipment to our rental inventory, giving our customers access to the latest and greatest technology.
With the CrewCom system, we can now offer our customers a highly flexible and reliable wireless intercom solution that is easy to set up and operate. The system features a range of user-friendly features, such as customizable keypanel layouts, advanced RF management tools, and an intuitive user interface, making it a favorite among production crews around the world.
One of the key advantages of the CrewCom system is its scalability. With the ability to connect up to 50 full-duplex wireless beltpacks and 64 wireless transceivers, the system can easily adapt to any production environment, from small-scale events to large-scale concerts and festivals. This scalability also allows us to offer flexible rental packages that can be tailored to the specific needs of our clients.
Another benefit of the CrewCom system is its excellent audio quality. Equipped with advanced audio processing technology, the system delivers crystal-clear communication, even in noisy and challenging environments. This ensures that our clients can stay connected and communicate effectively, no matter the circumstances.
In summary, our partnership with Pliant Technologies and the addition of the CrewCom system to our rental inventory is a significant milestone for our business. With this cutting-edge technology, we can now offer our customers an even greater level of service and flexibility, enabling them to tackle even the most demanding productions with ease. We are excited about this new chapter in our business and look forward to working closely with Pliant Technologies to continue providing our clients with the very best in wireless communication solutions.